Top 7 Reasons To Live On The Gulf Coast in 2023
Posted by Zachary Staruch on Wednesday, May 31, 2023 at 11:09:55 AM
By Zachary Staruch / May 31, 2023
Comment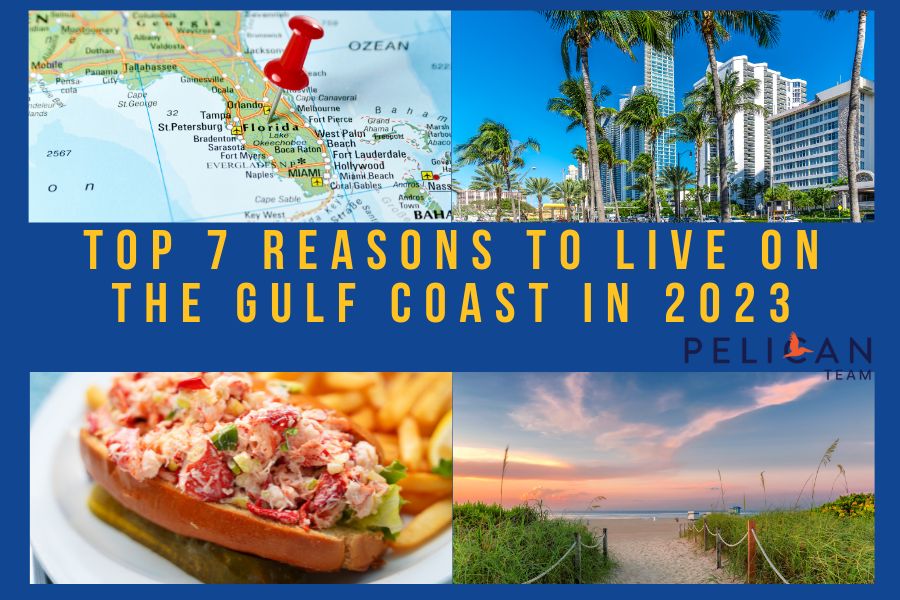 When it comes to traveling or finding a new place to settle down, there are many regions in the country that may capture your interest. However, the Gulf Coast stands out as a vibrant and enticing choice. Offering a blend of arts, culture, nightlife, and more, this region always has something captivating to offer. Whether you crave excitement or tranquility, Gulf Coast living provides a diverse range of experiences.
Top Reasons To Live On The Gulf Coast
Art & Culture
Immerse yourself in the Gulf Coast's thriving arts and culture scene. Sarasota, known as Florida's Cultural Coast®, is a haven for theaters, galleries, and artists. Attend captivating performances at the Asolo Repertory Theatre or enjoy the exquisite Sarasota Ballet's ballet shows. Explore the historic Sarasota Opera House or indulge in classic and contemporary art collections at the renowned Ringling Museum. Whatever your artistic preference, the Gulf Coast promises enriching opportunities to support and appreciate the fine arts.
Entertainment
Beyond its year-round offerings of exceptional fine arts performances and galleries, the Gulf Coast hosts a multitude of unique and thrilling festivals. From film festivals to the International Chalk Art Festival and wine festivals, there is a constant celebration of culture and entertainment along the Gulf Coast.
Beaches
The Gulf Coast boasts numerous stunning beaches, each renowned for its pristine waters and soft, white sands. Experience breathtaking sunrises and sunsets, take leisurely strolls, hunt for seashells, or bring your binoculars for birdwatching. Additionally, indulge in walking along piers, embarking on offshore fishing charters, or enjoying thrilling water sports. Florida's Gulf Coast beaches cater to every preference, offering something for everyone.
Nature
In addition to the mesmerizing ocean life found along the country's longest shoreline, Florida's Gulf Coast provides a captivating glimpse into diverse natural landscapes. With an array of nature trails, state parks, and nature preserves, the region offers endless opportunities to explore and appreciate the beauty of nature.
Climate
True to its nickname, the Sunshine State offers over 2800 hours of sunlight and an average daily temperature of 70.7°F, ensuring comfortable weather year-round. If you visit, the prime time to enjoy Florida's exceptional climate is from March to May when clear skies and mild temperatures prevail. Even year-round residents delight in the state's mild winters. The ocean acts as a natural temperature regulator, making the Gulf Coast an optimal choice for both vacations and permanent residence.
Golf
Florida is renowned not only for its sunny weather and stunning beaches but also for its abundance of high-quality golf courses. The Gulf Coast, in particular, has a rich golfing history, with the classic Bobby Jones Golf Club in Sarasota being one of the first courses in America. Today, the region boasts several clubs that host PGA and LPGA tours, offering the opportunity to play a round or witness some of the best in the sport.
Food
With its proximity to fresh seafood and its blend of cultures and traditions, the local cuisine in Florida is both diverse and enticing. Whether you prefer fine dining or a relaxed experience at a boat-to-table restaurant, the Gulf Coast presents an array of exquisite dining options to satisfy every palate.
When it's time to embark on a new adventure or find a place to call home, the Gulf Coast emerges as a captivating choice, offering a blend of arts, culture, natural beauty, ideal weather, sporting opportunities, and delectable culinary experiences.
For more information on buying, selling, or investing in the Gulf Coast, contact us!