The Best Place for Retirees to Embrace the Golden Years
Posted by Zachary Staruch on Friday, August 11, 2023 at 12:35:50 AM
By Zachary Staruch / August 11, 2023
Comment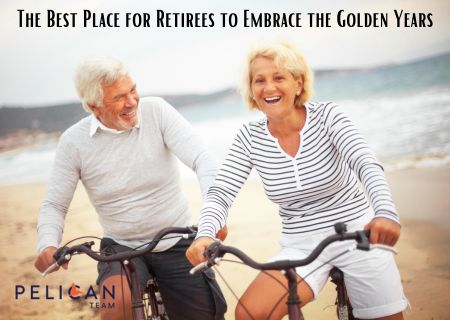 When it comes to choosing the perfect place to retire, Florida stands out as a prime destination for retirees seeking to enjoy their golden years to the fullest. The Sunshine State boasts a unique blend of natural beauty, favorable weather, and a plethora of amenities tailored to meet the needs of retirees. From pristine beaches and diverse wildlife to a thriving cultural scene and a wide range of recreational opportunities, Florida offers an unparalleled retirement experience. In this blog, we will explore the top reasons why Florida is the best place for retirees to settle down and create their dream retirement lifestyle.
The Best Place for Retirees to Embrace the Golden Years
Endless Sunshine and Mild Climate
One of the most significant draws for retirees is Florida's remarkable weather. The state's nickname, the "Sunshine State," speaks for itself, with its abundance of sunny days year-round. The mild winters provide relief from harsh cold climates, allowing retirees to enjoy outdoor activities throughout the year. Basking in the warm sunshine not only boosts mood and overall well-being but also offers ample opportunities for outdoor hobbies like golf, fishing, and gardening.
Diverse and Beautiful Landscapes
Florida is a treasure trove of natural beauty, with its stunning landscapes ranging from pristine beaches along the Gulf of Mexico and the Atlantic Ocean to lush, picturesque wetlands and marshes. The Everglades, a UNESCO World Heritage site, offers retirees a chance to connect with nature and explore diverse ecosystems. For nature enthusiasts, Florida's wildlife and birdwatching opportunities are second to none, providing retirees with a sense of wonder and adventure right at their doorstep.
Retirement-Friendly Communities
Florida is renowned for its diverse array of retirement communities designed to cater to various preferences and lifestyles. Whether retirees seek an active adult community with abundant social activities or a serene and quiet retreat, there is a perfect place for everyone. These communities often feature resort-style amenities, such as golf courses, swimming pools, fitness centers, and organized social events, fostering an environment where retirees can easily make new friends and build lasting connections.
Tax Benefits
Financial considerations play a significant role in retirement planning, and Florida shines in this aspect as well. One of the state's most enticing features is its tax-friendliness for retirees. Florida does not impose a state income tax, which means that retirees can stretch their retirement savings further and keep more of their hard-earned money.
Thriving Cultural Scene
Florida's vibrant cultural scene adds an enriching element to retirees' lives. Cities like Miami, Orlando, and Tampa host a plethora of arts and entertainment events, museums, galleries, and theaters. Retirees can indulge in live performances, art exhibitions, and cultural festivals, keeping their minds active and engaged in a stimulating atmosphere.
Access to Top-notch Healthcare
Florida boasts a robust healthcare system, with numerous renowned medical facilities and specialized healthcare providers throughout the state. As retirees age, having easy access to quality healthcare becomes increasingly important. Florida's abundance of medical resources ensures that retirees can maintain their health and well-being without having to travel far for specialized treatments or services.
A Food Lover's Paradise
Florida's diverse population contributes to its eclectic culinary scene, offering retirees a rich tapestry of dining experiences. From fresh seafood to international cuisine, food lovers can explore a wide range of flavors and culinary delights. Additionally, Florida's farmers' markets and fresh produce make it easy for retirees to maintain a healthy and nutritious diet.
In Conclusion
Florida stands as an irresistible retirement haven for many compelling reasons. With its sun-soaked days, breathtaking landscapes, retirement-friendly communities, favorable tax policies, enriching cultural experiences, top-notch healthcare, and culinary delights, Florida offers retirees a chance to live their best lives in the golden years. Whether retirees seek relaxation on the beach or an active lifestyle filled with social connections and outdoor adventures, the Sunshine State caters to every retirement dream. Choosing Florida as a place to retire opens the door to endless possibilities and creates a truly fulfilling and rewarding chapter of life.
Are you in search of information about homeownership in Fort Myers and ready to begin your real estate journey? Feel free to reach out to us without delay! Our team is committed to equipping you with all the essential details and support to make well-informed decisions about owning a home in this enchanting city.