5 Ways To Keep A 5 Star Review On Your Waterfront Vacation Rental
Posted by Zachary Staruch on Monday, June 19, 2023 at 3:56:11 PM
By Zachary Staruch / June 19, 2023
Comment
Guests place their trust in other guests, which is why earning positive reviews is crucial for the success of your vacation rental business. In a competitive market, where securing bookings can be challenging, a consistent stream of 5-star reviews can be the deciding factor for potential guests in choosing your home over others. Furthermore, higher ratings in Airbnb's search results are directly influenced by the quality of reviews, resulting in increased visibility and more bookings on the platform.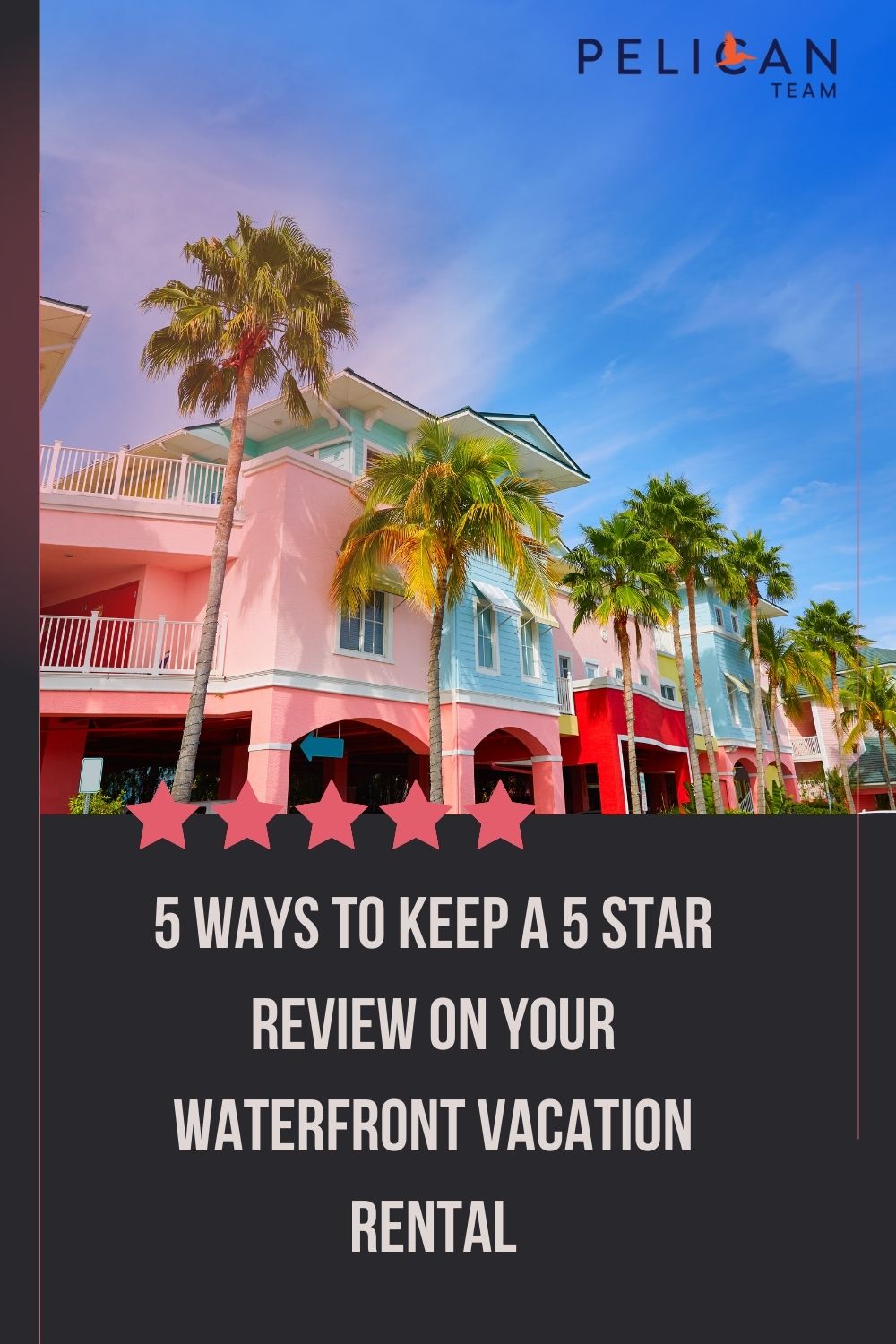 5 Ways To Keep A 5 Star Review On Your Waterfront Vacation Rental
Here are five expert strategies to encourage 5-star reviews from every guest:
#1 Provide an honest and accurate description of your vacation rental
Start by being transparent and setting realistic expectations. Avoid exaggerating the appeal of your home or concealing any downsides. It's essential to convey the truth, as any misrepresentation could lead to negative reviews later on.
For example, if your mountain cabin has a bumpy road, mention that it is best suited for travelers with four-wheel drive to avoid any inconveniences. Similarly, if your oceanfront condo is located near a lively beach bar, highlight it in your listing description to manage expectations and prevent potential complaints. You can also reframe potential negatives as positives while remaining transparent. For instance, describe the noisy beach bar as the "vibrant heart of our boardwalk" or "a popular gathering spot loved by locals."
#2 Ensure a spotlessly clean home upon arrival
A pristine vacation home is paramount for today's travelers who associate cleanliness with safety and sanitation. When guests step into your property, they are excited about their upcoming vacation but also concerned about cleanliness. They may wonder when the bed sheets were last laundered or if the dishes are truly clean. Unlike hotels, most vacation rentals lack professional cleaning staff as they are individually owned. To address this, consider hiring a house cleaner to ensure your home is impeccably clean before guests' arrival. This will put their minds at ease and create the foundation for a 5-star experience worth praising.
#3 Exceed expectations with thoughtful amenities
To transform an average stay into an exceptional one, go the extra mile with amenities. Show guests that you have carefully considered their comfort and overall experience. Start with essential items such as plush towels, a coffee maker, hand soap, and reliable WiFi. Then, surpass expectations by offering additional amenities. If you have a lake house, provide thoughtful extras like outdoor folding chairs, marshmallow roasting sticks, and beach towels. Catering to families? Enhance their experience by offering high chairs, easy-to-install baby gates, playpens, and kid-friendly, unbreakable dinnerware.
#4 Experience staying as a guest in a nearby vacation rental
To truly understand what makes or breaks an extraordinary stay, put yourself in your guest's shoes. Book a night or two in a vacation rental similar to yours (preferably one with consistently high reviews) in the same area. This "shopping your competition" approach, borrowed from the hotel industry, allows you to evaluate what other homeowners are doing right and where they can improve. Utilize this firsthand perspective to enhance your own vacation rental business. Additionally, reading guest reviews of your competition provides valuable insights. It helps identify common complaints or praises, enabling you to tailor your offerings accordingly. You may discover that aesthetics play a significant role in guest satisfaction, and a beautifully designed vacation home greatly influences the ratings and reviews guests to leave behind.
#5 Be direct and request a stellar vacation rental review
Yes, it's as simple as asking for it. Even if you provide an exceptional guest experience, unique amenities, and round-the-clock availability, guests may still neglect to leave a review due to forgetfulness or a lack of understanding regarding the significance of reviews for your business. Additionally, some guests may mistakenly believe that a 4-star rating is excellent, not realizing it.
In Conclusion
Earning positive reviews is vital for the success of your vacation rental business. By implementing these expert strategies, such as providing honest descriptions, ensuring cleanliness, exceeding expectations with amenities, experiencing stays as a guest, and directly asking for 5-star reviews, you can enhance guest satisfaction and secure a steady stream of positive feedback.
Not only do good reviews instill trust in potential guests and set you apart from the competition, but they also boost your visibility and ranking on platforms like Airbnb. By prioritizing guest happiness and consistently delivering exceptional experiences, you can cultivate a reputation that attracts more bookings and ultimately leads to long-term success in the vacation rental industry.
For further information about owning waterfront properties or vacation rentals in Fort Myers, feel free to contact us.